CLEVER Control. Intelligent regulation for air curtains and ventilation technology
The automatic operation of the air curtains is essential to maximize energy savings and the comfort they provide.
CLEVER automatically adapts the functioning of the installed equipment to the entrance conditions, depending on door state, how often the door is open or closed, internal and outside temperature or discharge temperature.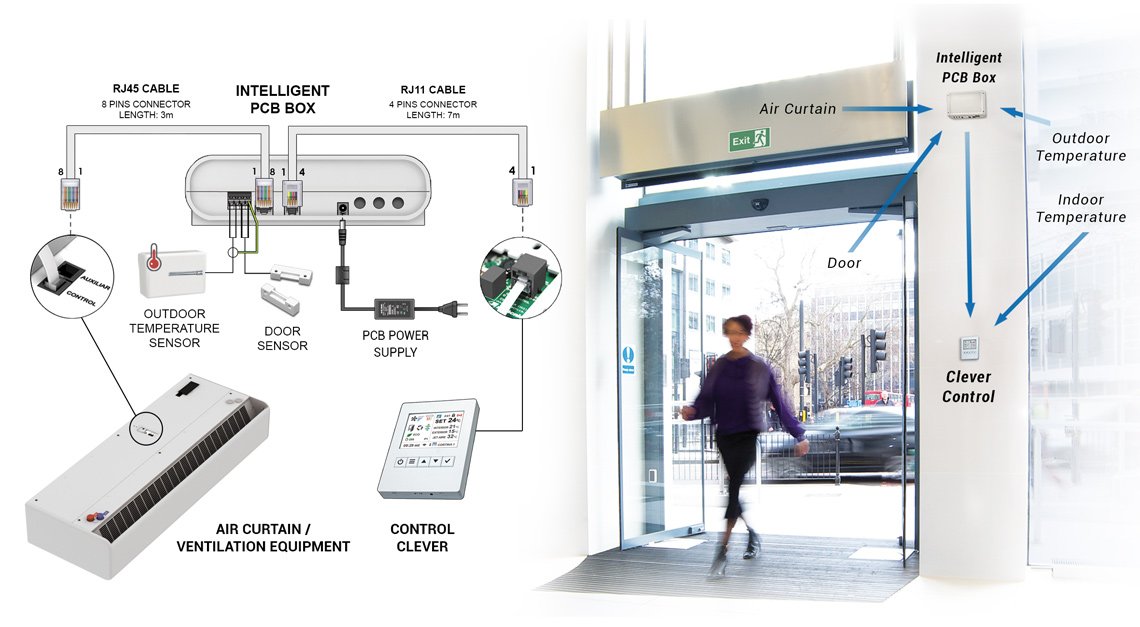 Multiple functions, infinite possibilities
CLEVER Control programmable system, with easy usability and simple installation, is factory ready to connect and run.

It can operate in manual or automatic program and provides many advanced features to fulfill all requirements. Multiequipment monitouring, comfort and energy efficiency modes or BMS connectivity are some of its multiple advanced functions.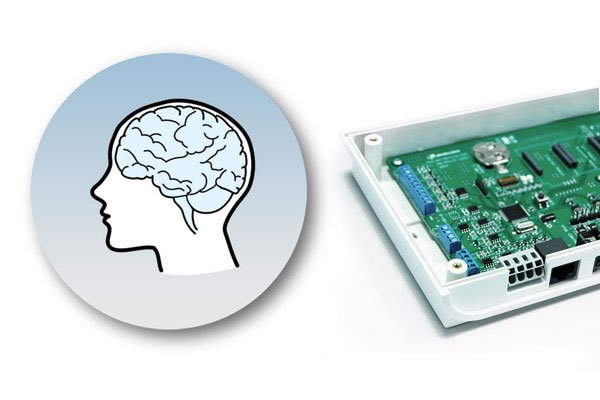 Smart proactive regulation
CLEVER optimizes ventilation and heating to create an efficient optimal barrier and climate protection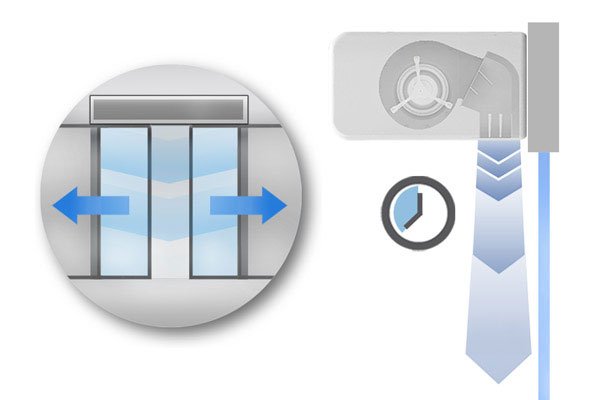 Adaptive Door Delay
When the door closes, the air curtain remains working at door open conditions for certain time to be ready if it's open again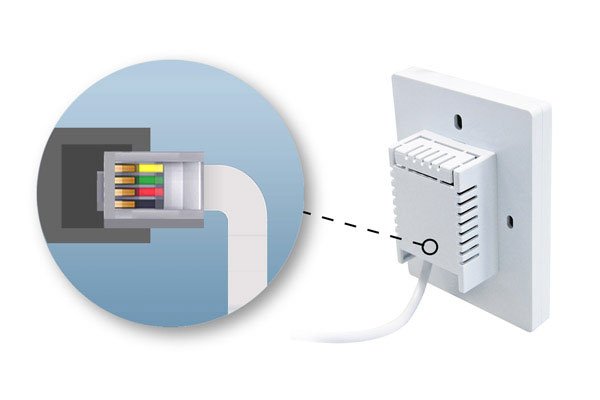 Easy installation
Factory adjusted control to just switch on and run. Easy Plug & Play Connection. Ready for flush mount installation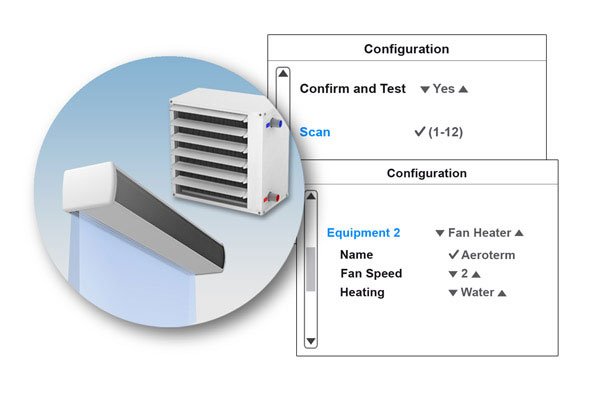 Multiequipment Monitoring
CLEVER PCB can monitor different types of units: Air curtains, heaters, AHU and other systems. 1 CLEVER TFT can manage up to 255 different units, each one with its own program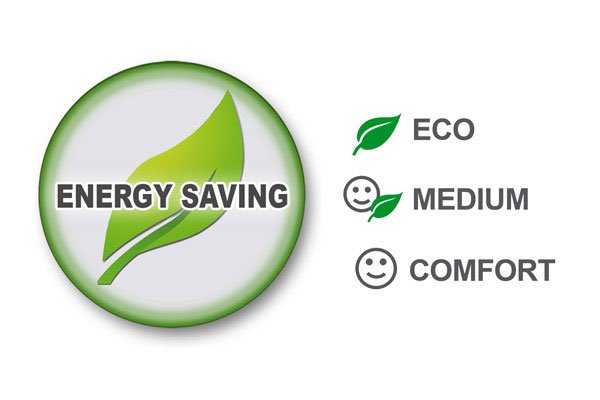 Energy saving mode
CLEVER Control has 3 grades of comfort and energy efficiency which can be adjusted in all manual and automatic programs: ECO, MEDIUM and COMFORT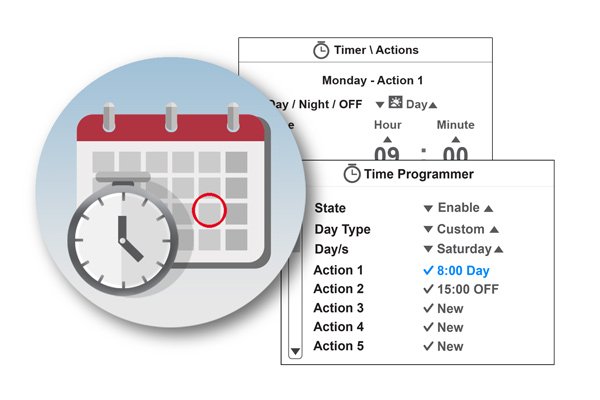 Time programmer
Calendar function to turn ON/OFF automatically the unit depending on the day of the week. User can select between Day or Night modes with 2 different Set temperatures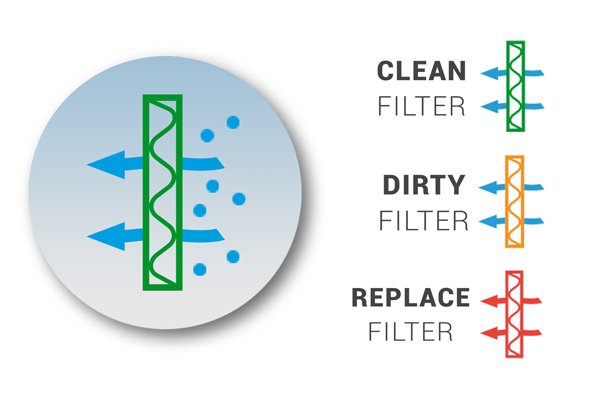 Filter alarm
Indicates when filter needs replacing or cleaning. The filter signal will change color depending on the state together with a warning message on the screen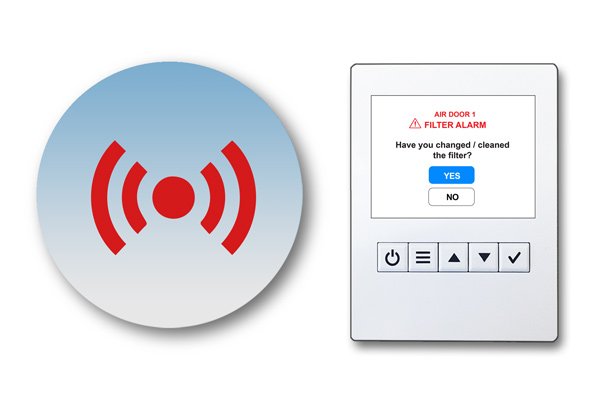 Alarms
Depending on the installed sensors, CLEVER control notifies the user whether the anti-freezing alarm activates, there is a ventilation or heating failure, the filter state or other external alarms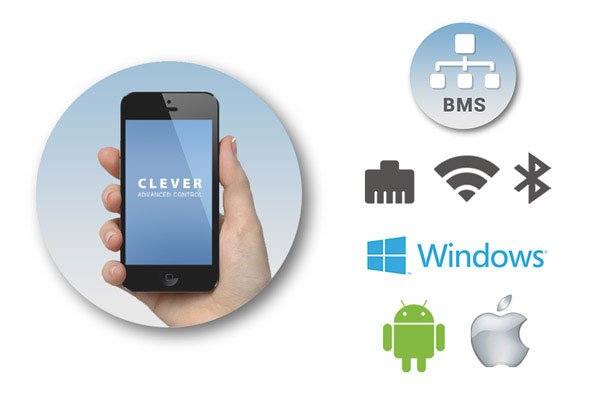 BMS connectivity and control via Application
CLEVER can directly connect to a BMS Modbus RTU system. In addition, any Windows, Android or IOS device can manage the equipment with the same functions as CLEVER Control